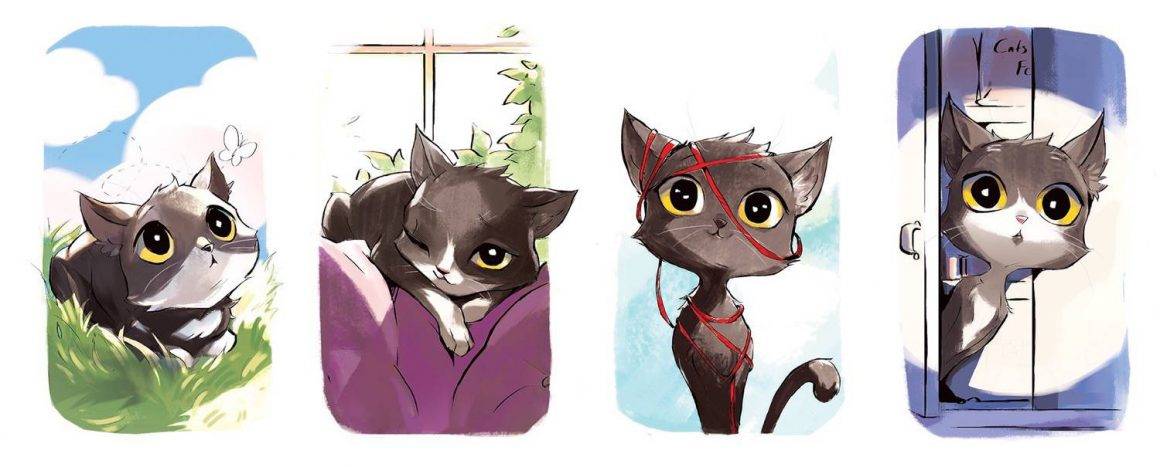 Katzenworld Yoto Mini Competition Update!
We have just announced the Winner for the giveaway! And it's Emma Hardy.


But don't worry those of you that haven't won can still get your hands on a Yoto Mini or cards with a special 12% off discount code.


Please use the code catday during checkout.


Rock out and get funky with these joyful tunes, equal parts fun and empowering and full of encouraging messages for kids.
Divinity Roxx is an American recording artist, composer, and musician. In addition to her own work, she is well known for touring and performing with Beyoncé Knowles (2006–2011) as her bassist and Musical Director.


'Ready Set Go' is her latest family-focused album. These tunes are equal parts fun and empowering and encourage kids to prepare themselves for greatness from the moment the day begins. Whether getting ready for school or just getting ready to try something new, being prepared is the first step to accomplishing anything. The next steps, Divinity says, are to put on a smile, add a dash of confidence, the right attitude, and then you're ready to go!

Author: Divinity Roxx
Running time: 22 mins
Content type: Music
Age Range: 0-5, 5-8
Language: English
Celebrate children's music from all over East Asia, mixing various musical traditions, languages, styles, and stories.
Unhurried Journey is a collection of songs for all ages that celebrates the beauty of taking our time to appreciate every moment of our individual and collective journeys. The album is inspired by the artwork of Kristiana Pärn, and features original songs based on her artwork plus reimagined folk and children's songs from East and Southeast Asia.


From the artist: "As I get older, I am learning to value taking my time. I embrace any opportunity to create space, listen, and appreciate this wild journey we're all on. When I do, I remember what I enjoy most about the journey: Having a conversation with a friend, face to face. Sharing a good meal. Listening to people's stories through music, art and memories. Appreciating the natural world that surrounds us. This album is about creating space for conversations, laughter, reflections, and memories. This album is my dedication to the unhurried journey. Each song is also a deep musical collaboration. They feature musicians and dear friends from Korea, Cambodia, Indonesia, Japan, Taiwan, China, Mexico and the US."

Author: Elena Moon Park
Running time: 32 mins
Content type: Music
Age Range: all
Language: English
Yoto says: 

A trio of heartfelt tales about the importance of self-worth, courage and kindness, written and narrated by BBC TV star Nadiya Hussain.
My Monster and Me: A heartfelt story that discusses worries and anxiety, encouraging us all to be kind.
A touching story about a little boy whose worry monster follows him everywhere he goes. It's there when he gets dressed, when he wants to play with his toys, and even when his friends come over to visit. How can he escape his worries?


Having suffered with panic disorder herself for as long as she can remember, Nadiya wrote this heartfelt story to help give children and parents the tools they need to talk about worries and anxiety, to ensure that no child suffers in silence.


Today I'm Strong: Inside every boy and girl is a brave tiger, and a very fierce friend. A beautiful story about inner strength.


I love to go to school. Well, most days I do. There are some days when what I really want is to stay at home with you.


A touching story about finding your inner strength, written by BBC TV star Nadiya Hussain.


Spreading My Wings: A compassionate story about finding the courage to be your true self.


I am a boy, and this is Rayf, my bird. Rayf is my friend.


On his first day of holiday camp, a little boy arrives with his bird best friend perched proudly on his shoulder, but he soon discovers that he is different from everyone else - no one else has a bird. He hides Rayf away to try and fit in but it's hard to pretend to be someone else for long.

Author: Nadiya Hussain
Read by: Nadiya Hussain
Running time: 15 mins
Content type: Stories
Age Range: 3-5
Language: English
Relive the magic of the much-loved film with this junior novel retelling of Disney and Pixar's Monsters University.
Mike Wazowski has always dreamed of becoming a Scarer. But when he crosses paths with hotshot Sulley, the pair's competitive spirit gets them both kicked out of Monsters University's elite Scare Program. Can they work together to make things right?
Danny and his mates head out on a school trip like no other in this laugh-out-loud adventure.
Best-selling Andy McNab and award-winning Phil Earle join forces for the very first time, and the results are hilarious!


Danny Mack's mates are brilliant: there's his best mate Giraffles (yeh, you read that right), so-called because of his unusually long neck; the MandM twins (you got it - like the chocolate) who are always finishing each other's sentences; and Lucky Success, who, well I reckon you can guess how he got his name.


They're the best mates a kid could ask for, and when an epic school trip is announced, they're all properly made up about it. Because school trips are just an excuse to have a big laugh with your mates, right? Erm, wrong.


Let's just say that this is a school trip like no other, and Danny, Giraffles, Lucky and the MandMs have got a real challenge on their hands.


Will they make it through? If Danny has anything to do with it, you bet they will!


Learn 50 flags from all over the world with this interactive quiz. You'll be a geography whizz in no time!
Flag-tastic fun! Learn fifty national flags from all over the world with this interactive quiz Card. When a flag appears on the pixel display, guess the country and click the button to discover the answer. Don't forget to listen out for a cool fact - you'll be a geography whizz in no time.


Leave boredom behind with musical activities all about travel; complete with catchy songs and games.

Leave boredom behind on long journeys with this engaging musical activity Card all about travel! Complete with catchy Yoto Original songs like Pack Your Suitcase and I Want To See The World, kids are encouraged to engage in a wide range of journey-based activities - from helping to pack suitcases, to the classic I Spy.


Eat porridge with Goldilocks, race a tortoise, harvest an enormous turnip and more in this jam-packed collection!
Climb a beanstalk with Jack, help out the Gingerbread Man and harvest an enormous turnip in this magic-packed Yoto Original! Featuring ten classic tales and fables retold specially for younger children, Yoto's First Fairy Tales brings stories to life with immersive sound effects and lively narration. Perfect for listening on-the-go with headphones, or at home with all the family, this Card is just right (sorry, Goldilocks!) for any occasion.


Get ready for your next epic adventure with this collection of fantastic fairytales, fun activities, singalong songs and calming mindfulness exercises.
This collection will be the perfect companion for any journey by boat, plane, car, train or even unicycle. A carefully curated selection of interactive and engaging cards that will keep little (and big) ones entertained on any length of trip.


Can you guess the flags on Flags of The World? Are you ready to sing and play along with Journey Jams, where songs and games are combined? When you need to chill out, why not try some Mini Mindfulness and then perhaps take a trip into your imagination with First Fairy Tales and The One and Only Shrek!


This group of cards can help soundtrack the ultimate vacations, road trips or even the journey to school. Guaranteed fun for all the family.


Heroic mouse Stuart Little finds himself on an exciting adventure to track down his best friend, Margalo.
Stuart Little is a shy, philosophical little mouse with a big heart and a taste for adventure. In spite of his diminutive stature, barely two inches tall, Stuart sets forth into the world with some mighty big plans: to ride a Fifth Avenue bus, to win a sailboat race in Central Park, and to teach school for a day.


But Stuart's greatest adventure begins when he decides to find his best friend, Margalo, a pretty little bird who once lived in a Boston fern in the Littles' house in New York City. Climbing into his tiny car, Stuart hits the open road, sure he's heading in the right direction, only to find himself in for a big surprise.


Filled with warmth, wit, and wonder, Stuart Little is a timeless tale that speaks to the heroic spirit in all of us – no matter what our size.

Author: E.B. White
Read by: Julie Harris
Running time: 1 hr 57 mins
Content type: Stories
Age Range: 8-12
Language: English
A unique fusion of recordings of endangered birds with musical elements to create gentle and inspiring songs.
Cosmo Sheldrake is a multi-instrumentalist musician, composer and producer. His album is called 'Wake Up Calls', has 13 tracks and a title intended to alert us to the glorious sounds around us, as well as the peril that the natural world faces.


'Wake Up Calls' was created over a nine year period, using recordings of bird song featured on the red and amber lists of endangered British birds (with the exception of a Robin and a Blackbird, which aren't endangered – yet). The album starts at night with a Nightjar and a Nightingale. The music progresses, track by track, through dawn and day time, round to the evening chorus and back to night with another Nightingale and an Owl. Cuckoo Song, is composed by Benjamin Britten and features the sound of a Cuckoo singing above Britten's grave in Aldeburgh Cemetery, recorded by the soundscape ecologist Bernie Krause. 'I hope that this music may serve as a wake up call: to help us become more aware of the glorious polyphonic soundworlds that surround us before many of these voices become extinct in Britain, and to remind us not to take any of these creatures and the music that they make for granted'.

Author: Cosmo Sheldrake
Running time: 29 mins
Content type: Music
Age Range: all
Language: English
Five timeless stories that have delighted audiences for generations, now available as an exclusive pack from Yoto!
These classic stories feature some of the best-loved characters in literature including Alice in Wonderland, Toad of Toad Hall and Oliver Twist, retold for younger listeners. Which will be your favourite?

Author: Various
Content type: Stories
Age Range: 0-5, 5-8
Language: English
Unleash your creativity with a pack of blank Yoto cards that can be linked to (almost) any audio!
Get grandparents to record bedtime stories, make a playlist from music files on your computer, or listen to your favourite radio station. You can also link Make Your Own cards to any content in your Yoto library - useful for replacing lost cards.
Make Your Own cards are can be edited as many times as you like! Just use the Yoto app or Create page to change or update the content on each card.


Percy Jackson is here! Get ready for three wild adventures at Camp Half Blood from bestselling author, Rick Riordan. 
Brought to you by Puffin.
Half boy. Half God. ALL Hero.


Dive into all three Percy Jackson adventures:
Percy Jackson and The Lightning Thief
Percy Jackson and the Sea of Monsters
Percy Jackson and the Titan's Curse


One day I was just a normal teenager, until I accidentally vapourised my maths teacher and got expelled and shipped off to Camp Half-Blood. Things would have been going well if Poseidon, God of Sea, wasn't my Dad, and I didn't have magical creatures trying to kill me.
Follow my journey as I try to save the day and not get killed in the process

Author: Rick Riordan
Read by: Jesse Bernstein
Running time: 26 hrs 47 mins
Content type: Stories
Age Range: 8-12
Language: English
Sing; dance and play along with these songs about animals and the fun times they have.
Rock along with award-winning children's music artist Laurie Berkner and her band. In this album, you'll meet a mouse in a toolbox, go swimming with a goldfish, dance with dinosaurs and buzz like a bumblebee!


Laurie says: "I find animals incredibly fun to sing about. Perhaps it's because I love making animal noises! Here is a collection of songs about all different kinds of animals – from bugs to baby rhinos, and dragons to dogs to dinosaurs. Have fun acting them out together!"


Laurie Berkner has sold over 1.1 million albums since her start in 1992. With 10 award-winning albums, critics widely acknowledge Laurie's major contribution to launching what is now dubbed the progressive "kindie rock" movement.


An exhilarating new series set in the great outdoors, from HOTEL FLAMINGO author Alex Milway.
An exhilarating new series set in the great outdoors, from Hotel Flamingo author Alex Milway
Welcome to Big Sky Mountain: a home for everyone!


There is never a dull day on Big Sky Mountain! Rain or shine, there is always something that needs doing. Rosa and Grandma Nan are busy building a bigger cabin when a storm strikes, and a host of animals descend for shelter. There is one unexpected visitor: a tiny wolf cub. This little wolf doesn't seem like the scary, giant-fanged forest wolves that Rosa has heard about! Can the cub really be part of their pack? Rosa and Grandma Nan set off into the forest to find out . . .


Stock inbound, orders containing this will ship once received from Yoto.
An exhilarating new series set in the great outdoors, from HOTEL FLAMINGO author Alex Milway.
An exhilarating new series set in the great outdoors, from Hotel Flamingo author Alex Milway


Welcome to Big Sky Mountain: a home for everyone!


Rosa has come from the city to live with Grandma Nan in the wilds of Big Sky Mountain. And what surprises are in store for her! Grandma Nan is not exactly an ordinary grandma, and Big Sky Mountain is like nowhere Rosa has dreamed about before. Grandma Nan lives in an old wooden cabin with Albert the moose and Little Pig the pygmy owl, and spends every day out on adventures. From canoeing down rapids to making friends with the local animals, life never stays still for long on Big Sky Mountain!


Rosa has a lot to learn, and when unexpected visitors to the mountain cause a bit of a ruckus, can she rise to the challenge, and be the mountain girl Grandma Nan needs her to be?


Stock inbound, orders containing this will ship once received from Yoto.
This sunny, funny audio story is an animal-lover's dream. Imagine the Grand Budapest Hotel run by the cast of a Dick King-Smith novel and you're halfway there!
When young Anna inherits a dilapidated once-grand hotel from her Great Aunt Mathilde, she's determined to restore it to its former glory. But this is no ordinary hotel – all of her staff and guests are animals! Anna soon rises to the challenge. Whether it's a flamingo, a penguin or a hippo knocking at the door, Anna is ready to welcome them all – with the help of her trusty sidekicks T Bear the doorman, Squeak the friendly elevator mouse, and Lemmy the lemur receptionist… As she soon finds out, though, running an animal hotel is no easy task. Can Anna make Hotel Flamingo a success once more?


In her third adventure; Cookie finds mysteries everywhere - but can she solve them; and save the science show?
In her third adventure; Cookie finds mysteries everywhere - but can she solve them; and save the science show?
Hurray; Cookie's Nani is coming to stay from Bangladesh! But she doesn't speak English and Cookie is the only one in the family who doesn't speak Bengali. Luckily; science-mad Cookie realises that her coding lessons at school might help her crack the language code and help her bond with Nani.


Other mysteries are harder to solve; though - like; why is Jake's mum acting so weird? Who is the mystery gamer who keeps levelling-up in Cookie's computer game? And who is the Woodburn Hacker; who keeps posting teachers' secrets on the school website? Why does it look like it might be Cookie herself?


Can Cookie solve these mysteries; clear her name and save the science show?


Danny Chung loves drawing - not maths! But when his ex-maths-champion grandma comes to stay; he soon realises that they have more in common than he ever thought possible…
Eleven-year-old Danny Chung loves drawing more than anything - certainly more than maths; which; according to his dad and everyone else; is what he is 'supposed' to be good at. He also loves having his own room where he can draw in peace; so his life is turned upside down when a surprise that he's been promised turns out to be his little; wrinkly; ex-maths-champion grandmother from China. What's worse; Nai Nai has to share his room; and she takes the top bunk!
Nai Nai can't speak a word of English; which doesn't make things easy for Danny when he is charged with looking after her during his school holidays. Babysitting Nai Nai is not what he wants to be doing!


Before long though it becomes clear to Danny that there is more to Nai Nai than meets the eye; and that they have more in common that he thought possible....


Wherever you listen, join Peppa Pig as she travels around the world in this collection of nine 5-minute stories.
Brought to you by Ladybird. It's time to go on the road with Peppa and this fantastic collection of nine stories, perfect for any journey! Join in the fun with music, sound effects and all the original Peppa voices taken directly from the hit TV show.