The Weenect GPS collar is the perfect device to keep an eye on your cat. Make sure you never lose it.
Using Weenect Cats 2, you can track your cat's movements on a real time map via the smartphone app (iOS and Android). The cat tracker collar allows you to locate your pet wherever it happens to be, so your cat is safe wherever its adventure take it.
Use the alarm on its GPS tracker to bring it home when it's time to eat.
Weenect Cats 2 is the only cat tracking collar to offer a training module in addition to live tracking. No need to stand in the back garden rattling the cat food waiting for your four-legged friend to come home. By vibrating or ringing its tracker at each meal time, it will end up associating the two events; you can then call it for dinner with a single click in your app.
GPS tracking even in the countryside
Our pets enjoy most freedom in the countryside, so it is in these areas least covered by cellular service that the GPS cat tracker most needs to operate. The product's integrated SIM card is international (works all over Europe) and multi-operator (can connect to the cell service of all telephone operators) for 99% coverage of the territory.
All your cats on the same tracking app
You can locate all your animals equipped with a GPS tracker for cats from the same account. This makes it easier to track them on the map, to check battery life, the quality of the cellular network and the state of the internet connection. No need to create multiple accounts or limit yourself to a single cat GPS tracker, it's easy to keep all your pets safe.
Spend less time looking for it. Find it quickly thanks to our three location modes.
The GPS cat tracker is a complete tracking system that shows the GPS location of your feline with different modes: maps (classic or satellite view), compass and radar (opposite). That means you always know your pet's exact location. If it's hiding in a bush, you can also ring the cat GPS collar to quickly locate it.
Find out where your pet spends the most time and the boundaries of its territory. Share its adventures from the conform of your home.
With the GPS collar for cats you can quickly identify the perimeter of your cat's territory and the places it spends the most time. You can also view its activity level, the route it takes on its adventures, the distance travelled daily as well as the time spent playing or sleeping. With the Weenect GPS system you finally have the tool to discover the secret life of your cat!
Be warned in case of danger. You will receive an alert with your cat's position so you can intervene quickly.
The cat collar tracker allows you to receive alerts if your four-legged friend leaves a set safe zone (notifications sent directly to your phone). This will prevent your overly curious cat from getting too close to a dangerous road or straying too far from home. A mini GPS tracker which also works as a system to prevent your cat from wandering too far.
Product features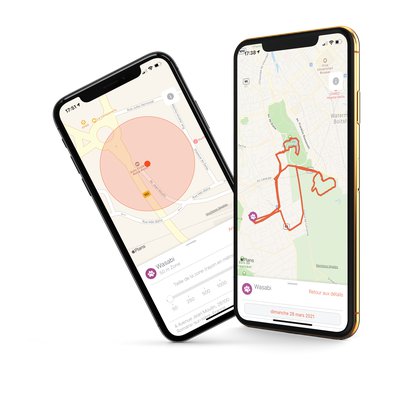 GPS tracking -Follow your cat live and with no distance limit.
Training- Teach your cat to come home on its own.
Location history- Relive all of your cat's adventures from your phone.
Virtual fence- Receive an alert via the app if your cat leaves a predefined area.
Waterproof GPS100% submersible to IP67 standard for waterproofing up to 1 metre deep.
Attached with a silicone caseThe attachment allows the GPS for cats to be attached to a harness or collar with a breakaway mechanism.
BatteryUp to 3 days of battery life (550 mAh), so no need to recharge every day.
Small GPSIt is the smallest and lightest cat tracker in the world (60x23x12mm – 25 grams).