SmartLeash, patented worldwide, is the first and only retractable leash that automatically stops your dog when he or she unexpectedly storms, the brake automatically snaps in, faster than you could ever react, you protect yourself and your dog or cat.
SmartLeash has a light yellow reflecting well visible strap, as well as a comfortable, rubberized handle and a practical push-button hand-brake. A reflective safety wrist strap is also supplied with each leash.
The medium and large models have a stretchable back-absorbing intermediate piece attached to the carabiner. It absorbs the normal loads associated with walking your dog when the leash is fixed.
Self-locking brake

 
works like a safety belt
If you've used a retractable you know that if the leash isn't locked and you're not instantly on the brake button, your pet can quickly move away from you. The patented automatic brake in SmartLeash solves this problem.
Keeping the safety of you and your best friend in mind, we put reflective yellow tape in every SmartLeash – no ropes, no dark colors. And every SmartLeash comes with a detachable wriststrap, which I really really recommend using all the time!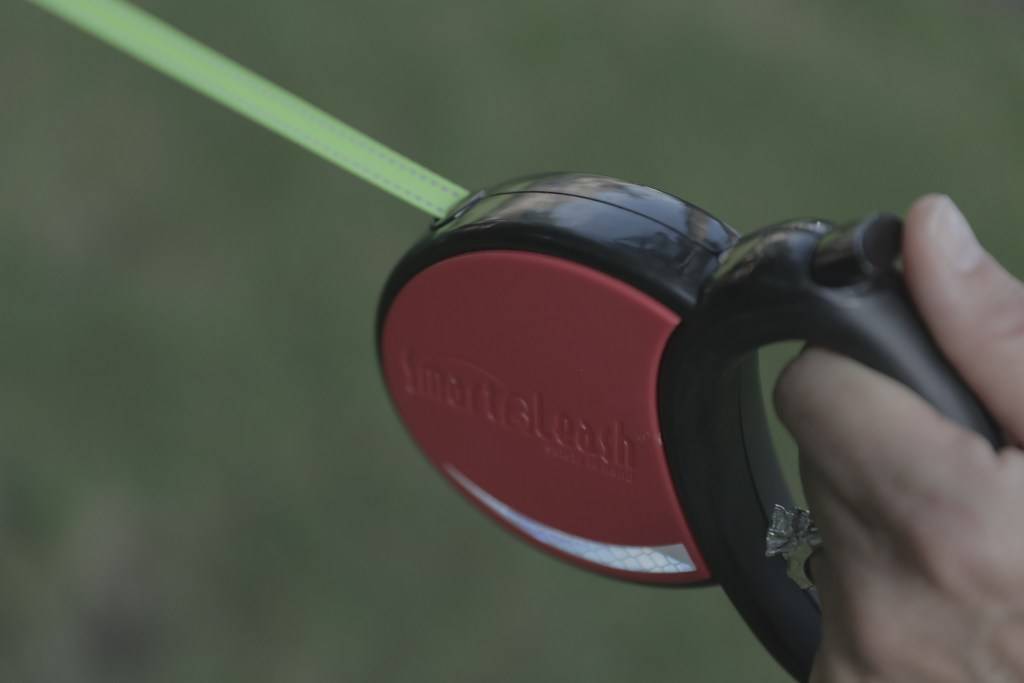 Small – for dogs and also cats < 10kg
Medium – for dogs <18kg
Large – for dogs <29kg
XLarge – for dogs <43kg